Getting a closer look into Katelyn Drydale's childhood battle with cancer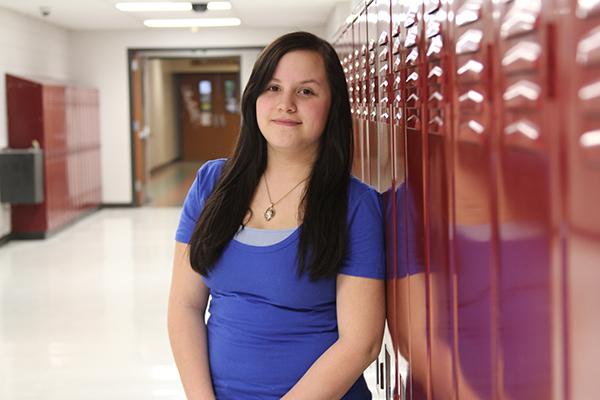 Sophomore Katelynn Drydale doesn't remember the first time she heard the word "cancer," but she has not let that word define her life.
"When I found out about having cancer, it didn't really affect me," Katelynn said. "I was really young and didn't know much about it back then."
Diagnosed at age five, Katelynn had a 10-month fight ahead with osteosarcoma, a type of bone cancer.
With a tumor in her femur that was the size of a baseball, chemotherapy and amputation of her leg seemed to be the only option.
"The scariest part of it all was not knowing what the outcome was going to be, whether I was going to survive or not," Katelynn said.
Despite a slight limp, Katelynn is just a normal teenager with hobbies and goals.
"I hope to go to college at KU or K-State," Katelynn said. "I want to study to be an interior or exterior designer."
Checkups once a year are required to look for reoccurring cancer and twice a year for her amputated leg.
"The hardest part about getting cancer would be losing my leg," Katelynn said. "It was really difficult to adjust to, but now it's like second nature to me."
Mentally, childhood cancer didn't affect Katelynn as much as everyone thinks.
"Most people treat me differently now, and they underestimate my feelings towards everything that happened," Katelynn said. "It doesn't upset me when people ask me about it. I just never know what to say."
Although Katelynn doesn't remember the day of her diagnosis, her mother, Patricia, remembers this moment very clearly.
"Kate handled it like a trooper," Patricia Drydale said. "She didn't quite know what was going on, but she did what she had to do."
As Katelynn has grown, so has Patricia's admiration for her daughter.
"I am very proud of my daughter," Patricia said. "She has been through a lot as a kid and has still managed to be a kid."
Katelynn said her battle with cancer has made her stronger.
"I've been an amputee for almost 10 years," Katelynn said. "Going through this was life-changing, but I lived through it, and it made me who I am today."