Pumpkin Recipes
A&E co-editor Hunter Murphy whipped up a few delicious pumpkin dishes that you may want to try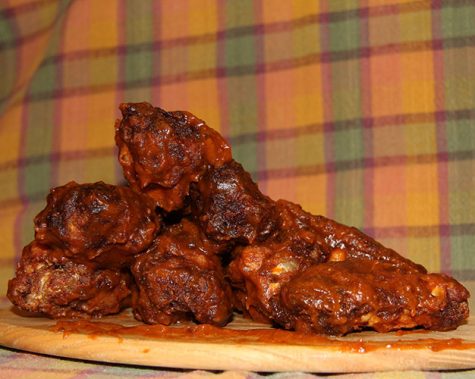 Pumpkin Spice Wings | https://youtu.be/UhsKxn41a-k
full recipe | http://www.foodbeast.com/news/psl-wings/
It's fall, which means it's time for football, Halloween, and of course the infamous, pumpkin spiced latte. I took one of the most popular fall treats and combined it with one of the most popular American foods to create the pumpkin-spiced latte wing.
To make these, you take any ordinary chicken wing and coat them in a flour, brown sugar, and pumpkin-spiced breading and fry them for around 10 minutes.
For the sauce, you can use your favorite hot sauce and mix that with two cups of pure pumpkin on the stove and then add a half cup of coffee and a cup of brown sugar.
I would compare these wings to that of a honey barbecue; they were definitely on the sweeter side. These wings would pair greatly with the pumpkin pizza pictured in picture three.
These wings are perfect for anyone who loves fall, a wing fanatic or just about anyone with tastebuds.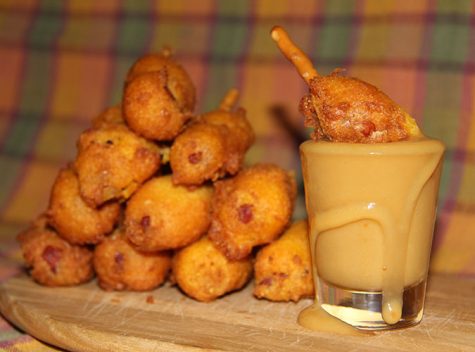 Pumpkin Corn Dogs | 
Full Recipe | http://www.ohbiteit.com/2015/10/mini-pumpkin-corn-dog-bites-with-maple-mustard.html
For these mini-pumpkin corn dogs that are perfect for any October tailgate, all you need are five simple ingredients.
After mixing the corn muffin mix together, you add half a cup of pure pumpkin into it, not mixing it thoroughly to give it more color and definition. After rolling the Lit'l Smokies in the cornstarch and then in the batter, you will place them either on a stove or in a fryer where the oil is 350 degrees, until they are golden brown.
Although they are delicious on their own, to really make these pop, you can pair them with a maple honey mustard, which takes about 2 tablespoons for each half cup of honey mustard. The honey mustard I used was a honey dijon from Jack Daniels. I also used pretzel sticks with my corn dogs for easy dipping.
If you are ever in the need of a quick fall snack or need a finger food for your Sundays, these pumpkin corn dogs are for you.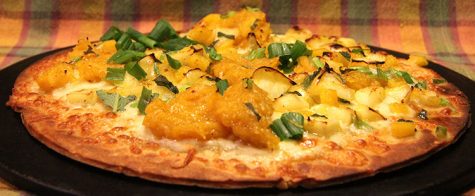 Pumpkin Pizza |
Full Recipe | http://www.seriouseats.com/2014/10/the-food-lab-best-pumpkin-pizza-halloween-fall.html
The most popular foods in the United States has met the a staple of the fall season, the pumpkin.
This dish, of the three, took the most preparation time, taking around an hour to make. You'll need a sugar pumpkin for this and dough. I used a  pre-made dough because it was more of a demo, but I strongly recommend using actual dough. The pumpkin will need to be cut into four quarters, three will be roasted, the other diced and sautéed with baking apples and sage.
After roasting, you will make a mash with the pumpkin, mixing in nutmeg, cinnamon, and honey. I used a mix of my favorite cheeses for the pizza. After spreading the cheese, dollop the pumpkin mash and spread the sautéed mix over the pumpkin with scallions.
After throwing that into the oven, you will have one of the most delicious fall-themed foods out there.