GLSEN Day of Silence: A Silent Day for an Identity Whispered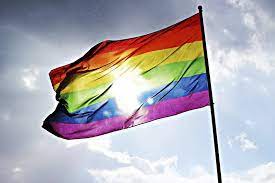 Friday, April 14th was the Nation wide GSA Day Of Silence. On this day, GSA members and our supporters did not speak for the whole school day to protest and bring awareness to how as queer students, our rights and liberties have been taken away. This is not just in our school, but GSA Clubs nationwide are participating in it as well. For someone who is not involved, you may be wondering why we are doing this. You may even wonder what a GSA is. Well, I'm here to tell you all of that and the dark reality of the world we live in.
In case you are not aware, GSA stands for "Gender and Sexuality Alliance" you may also know it by its older name "Gay and Straight Alliance." Either way, GSA is a club and community that is made to be a safe space for young queer students as well as a place for us to discuss how to make our school more welcoming for us. Different schools do different things in their GSA, but at Bonner, we focus on raising awareness for the issues here, as well as raising money for charity and having places for students to feel like they belong. In Kansas, it is required that every public school needs to have some sort of GSA.
GLSEN, which stands for "Gay, Lesbian, Straight, Education Network" is an organization that works to end discrimination in schools and promote inclusion and awareness. They help sponsor and create resources for schools, including making the "Day Of Silence." The reason for this day is because we, as queer students, as gay youths, whatever you wish to call us, have constantly needed to fight and be loud just to have equal respect from both our peers and our teachers. Yet more and more, especially in these last few years, we have had push back after push back, law after law made against us. So, we are showing just what it would be like if we did go silent. How many students are affected? At bonner, our group is not huge, so its merely a drop in the ocean of our school. But because it's wide, we can make ripples that may get noticed, and perhaps that way, we can finally be heard, by saying nothing.