Katherine Holland Interview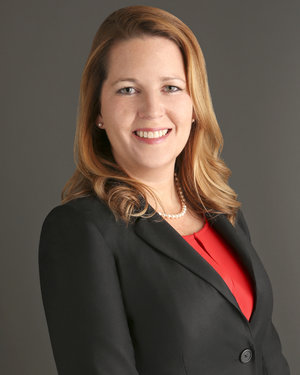 Madden
On March 28, 2023, Katelyn Fogelman and I had the very fortunate opportunity to have time for an interview with the Chief Operations Officer from the Kansas City Sports Commission, Katherine Holland. She worked as the vice president for the Madison Square Garden company in New York and worked for Visa in San Francisco for a bit until returning to Kansas City a few years ago. Her leadership with the Kansas City Sports Commission has been able to arrange events like, for instance, the upcoming NFL Draft at Union Station. The 2026 World Cup games will take place at GEHA Field at Arrowhead Stadium. Here are some of the highlights of said interview.
With a hardcore sports city like Kansas City, what is the lasting impact of the World Cup?
"I think that this event has a very different opportunity here in Kansas City than there is in any other host city." Kansas City is the smallest market in the all-North American World Cup beating out big cities like Denver, Cincinnati, Chicago, and more. Katherine also pointed out the fact that "It's more accessible" and "I think our community feels much more closely committed and tied to a lot of these events," which is very much true coming from a devoted Kansas City sports fan.
How has the Kansas City Sports Commission planned for the NFL Draft?
Another question for Katherine was about the planning and effort put into it by the Kansas City Sports Commission. Although nowadays she's 100% into the planning for the World Cup, she said "The Sports Commission is the liaison between Kansas City and the NFL". A connection of some sort to be exact. They have also been working together to make sure this event has a functional, reliable, and efficient transportation system. They have done a very good job with their partnership and we're excited to see what happens come draft day.
Katherine Holland was also very fortunate to have the opportunity to go to Doha, Qatar for the 2022 World Cup. The reason why she and the Sports Commission are really taking their time to plan ahead and make everything up to speed is that. Her experience was once in a lifetime, yes, but there were way more flaws than good qualities. To describe it in my words, a trial run of the World Cup. Full of pop-up shop stadiums and hotels and no alcohol. FIFA just wanted the tournament to get over with and move on to 2026. But with Kansas City, we don't have those issues since we already have the infrastructure, quality of life, human rights, and more in place.
To conclude this interview piece, I would like to send a huge thank you to Katherine Holland and the Kansas City Sports Commission for this huge opportunity. I would also like to thank my aunt Joanne Huey for being able to help set this interview up. I would also like to thank the newspaper sponsor Erin Rausch for letting us do this interview and Katelyn Fogelman for leading the interview. A special thank you to the USD 204 District for letting us miss Wednesday block day for this interview. Thank you and we hope we can continue to do more activities like this in the future.
Katelyn
Use three words to describe your job.
"Impactful, exciting, and unprecedented."
What is it like to be a woman in the sports industry?
"I think it's really exciting especially right now when women's sports are on such a high note. If you're thinking locally about Kansas City and the Kansas City Current and everything they have achieved in such a short period of time and the way they are helping Kansas City earn a position on the global stage. Particularly with soccer." She goes on to say, "I can't help but think about the March Madness and NCAA and Caitlin Clark from Iowa is arguably the most popular college basketball player right now. I appreciate the responsibility that comes with being a woman in the sports industry. I think we women can bring a different perspective and thought process too."
What made you want to pursue a career in this field?
"Honestly my love of playing sports as a kid. My mom thinks traditionally and enrolled me in ballet. I was awful at ballet and hated it. I begged my mom to let me play soccer but at the time there actually weren't any girls' soccer teams in Kansas. So my mom and the mom of another girl, who I was friends with and am still friends with today, put us on a soccer team of all boys. We ended up being the only girls on the team. I just stuck with athletics for the rest of my life. I was a four-year three-sport varsity athlete and played soccer at Trinity College in Hartford Connecticut. I was ahead on my credits and ended up with a full-time paid internship my senior year of college at ESPN."
What advice would you give someone wanting to enter your field?
"There are so many aspects of the sports industry, a lot of people like to think of professional sports teams but that's just the tip of the iceberg. If you know you really want to work in sports take every opportunity you have. Capitalize on internship opportunities, if you go to college you want to engage with college athletics, get connected with the athletic directors be a team manager. It's like a mini experience of what it will be like to work for a professional team. Pursue opportunities that give you access to learn more about sports but don't just think about the things that look like bright shiny objects. Sure it would be pretty cool to work for the chiefs but there are a lot of other opportunities out there and many more opportunities to be had. You don't have to work for the super bowl to learn a lot and to be exposed to a lot of people."
Have you ever felt discriminated against (e.g. due to gender, race, or ethnicity…), and how did you respond?
"I've certainly had instances in my professional career where I have felt like I was being treated differently because I am a woman. I would say that I am lucky that I can't necessarily point to an extended period of time I was being discriminated against. There have been times when people have been inappropriate. But frankly, no one has ever accused me of being quiet so I have called them out on it at the moment. But that's also just my nature. I think sometimes that even if my bark is bigger than my bite that it's important to call out what you're seeing and what you're experiencing and why it's wrong. Actually, verbalizing and saying out loud what you're experiencing is powerful. Women are still in a position where they have to fight for their worth and their value without having to sacrifice choices. But I've been pretty lucky."
Do you feel the impact of this male-dominated industry?
"At times. Not as much since moving back to Kansas City. When I was in New York working for the Madison Square Garden Company I was one of the only female vice presidents on the sports side of the organization. I distinctly remember being in boardrooms with a table full of men with myself and my boss who was a woman. I've had the privilege of working for a lot of great female leaders. I recall in the early days feeling a little intimidated but I think part of playing sports my entire life and being a part of a team I learned to appreciate the value of my voice pretty early on. So, I've always been pretty comfortable in using my voice in a very polite and respectful way but in a way that also conveys my thoughts and feelings."