Women Fight for Freedom
A crucial update on the protests in Iran.
Women, life, freedom. These three powerful words ring out in the streets of Iran as the people protest the unjust death of Mahsa Amini. For years, women in Iran have fallen victim to the oppression by the regime. It is time for change. Amini has sparked protests throughout Iran and has symbolized change and resistance to the Iranian government. A revolution has begun in Iran, and brave women all over the country are demanding change and protesting despite their safety risks.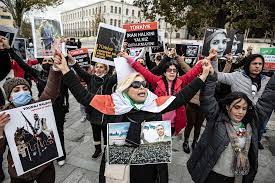 On September 13, 2022, Mahsa Amini was arrested by the morality police in Iran (the police who enforce religious observances). She was arrested for wearing her hijab incorrectly. After only three days she died in police custody; local media reported that she had been severely beaten. The government, however, ruled that her death was the result of an underlying disease.
When news of these events was released to the public, many women took to the streets to protest the repression they face as a result of the regime in Iran. Demonstrators have been protesting the government by removing their hijabs, cutting off their hair, school-aged girls protesting in the classroom, and many more peaceful protesting tactics. Large groups have people have been detained and subjected to torture as a result of these demonstrations. 
It has been seven months since these protests began, and the Iranian government is still committing crimes against its people. They have detained more than 20,000 people for their involvement in these protests, and 500 people have been reported dead  Human Rights Activists News Agency (HRANA). Reports have been surfacing of young women, and some children, who have been beaten and tortured for speaking out against the government. Many people have taken to social media to document the brutality they are facing. 21-year-old, Ghazal Ranjkesh, shared photos of her in the hospital with a bandage covering her eye. She was shot in the eye by Iranian police forces. Many other brave people have also shared similar experiences. 
The regime has tried to instill fear in its citizens and targets mass amounts of people to overshadow and stop the protesting. According to the FDD, 328 chemical poisonings have occurred in schools across the country. While it has not been proven that the regime is responsible for these attacks, many believe that this has been a tactic used by those in power to silence the voices of those who speak out against them. Children are falling victim to the inhumane efforts of the regime to stay in control.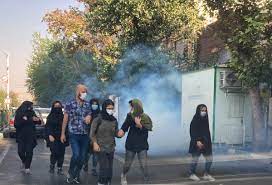 The women of Iran are powerful in their efforts to change their future and the future of other young women. It is important to continue speaking about this topic and support those who are using their voices to impact our society.