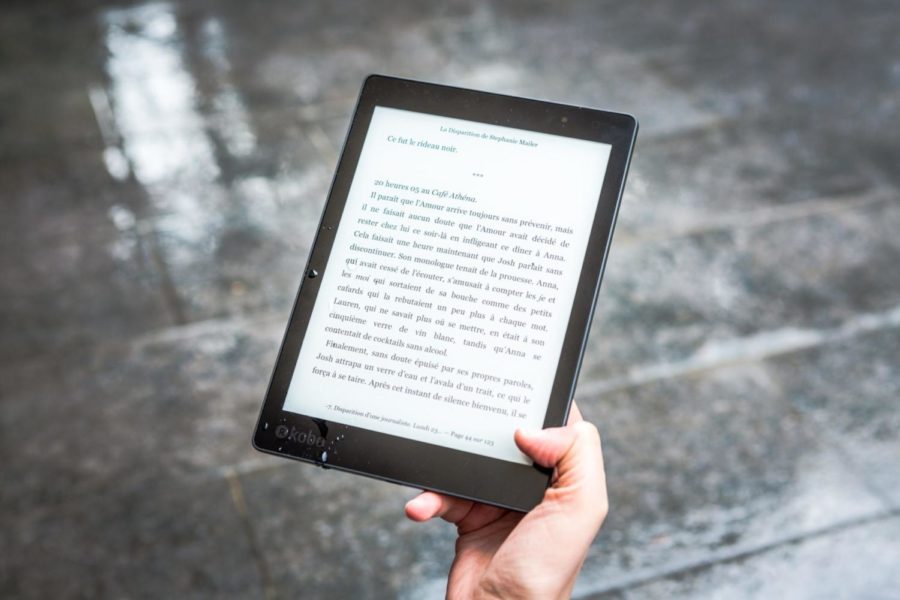 Ebooks
January 12, 2023
With apps like Kindle or Libby – an app that connects with you local library and has ebook versions of the catalog – ebooks have been on the rise in the past decade or so.
Pros:
Portable – A phone, or even Kindle device, is much more portable than a physical book. You can carry it around in your pocket and it barely takes up space.

Convenient – Since you can carry it around with you easier, you can start reading wherever and whenever you want. If you're riding on the streetcar or have a short break at work, you can pull out your phone and get a few minutes of reading in.

Bigger library – Compared to the limited space on a bookshelf, an online library can have thousands of books available at once. You can easily download as many books as you want and save them for later.

Accessible – With many e-reading apps and devices, you can adjust the color contrast and font size, something that's very important for people with low vision. Even sighted people could benefit from the comfort of a different size and color.

Can be cheaper – Although app subscriptions or e-reading devices can be a little pricey, it will ultimately be cheaper than constantly buying print books. You buy a Kindle or Nook one time, then have access to thousands of books for free.
Cons:
Eye-strain – Because you're staring at a screen to read an e-book, you're more likely to get a headache or eye pain.

Internet and batteries needed – While you can read already downloaded books without internet, you need an internet connection to buy/download books beforehand. Devices also have a battery life. Once that battery runs out, you have to wait a while before continuing your book.

No refunds – If you buy a physical book and never end up reading it, it's easy to resell it at a used bookstore or online. With ebooks, once you buy a book, that's it. If you don't read it, you don't get your money back.

Can't be read in daylight – You can't enjoy a good book on the beach or read in the park on a sunny day. The sunlight sometimes makes it almost impossible to see the screen of your phone or e-reading device. Unless you find some good shade, reading outside is not a good option.
Senior Sunaree Alongkornvilai enjoys ebooks the most. "It's accessible at all times because I almost always have my phone on me. Sometimes, it's a bother to hold the pages open."
Staff member Mrs. Quenette prefers to read ebooks. "When borrowing paper books, I have to be more careful about due dates and having my next read reserved and picked up in time.  It requires more trips to the library.  I can borrow eBooks without leaving my home!"