Tyre Nichols Murdered: A Timeline of Events
More stories from Mia Smith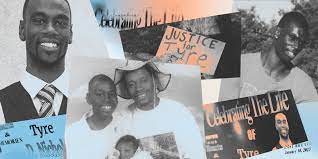 On January 7, 2023, Tyre Nichols was beaten to death by five Memphis Police Department officers. Tyre was a 29 year old black man from Memphis. He was originally pulled over for a traffic violation, which turned into a violent arrest, leading to his death.
According to the Memphis Police, Nichols was pulled over at 8:30 pm for "reckless driving." After this, a confrontation occurred between Nichols and the officer, then Nichols fled on foot leading to another confrontation. This resulted in his arrest. After the arrest, Tyre began to complain of shortness of breath, so an ambulance was called. He was later transported to a local hospital where he was deemed in critical condition. On January 10, 2023, a statement was released by the Tennessee Bureau of Investigation that blamed Tyre's cause of death on the "use-of-force with incident officers."
The next update on the case came on January 15th when the police chief, Cerelyn Davis, said,"After reviewing various sources of information involving this incident, I have found that it is necessary to take immediate and appropriate action. Today, the department is serving notice to the officers involved of the impending administrative actions."  The Shelby County DA office along with the TBI, were set to begin an investigation into the possible misconduct.
According to CNN staff writer Travis Caldwell, a federal investigation was declared on January 18th. Following the announcement of the investigation, the names of the officers were released to the public, and they were fired on January 20th.
On January 23rd, the family and lawyers of the victim were able to watch the unreleased traffic stop video. Tyre's lawyer, Antonio Ramonucci, tells CNN, "He was defenseless the entire time. He was a human piñata for those police officers. It was an unadulterated, unabashed, nonstop beating of this young boy for three minutes. That is what we saw in that video. Not only was it violent, it was savage." Tyre's stepfather also adds, "No father, mother should have to witness what I saw today."
The Memphis Police Chief later released a statement about the events on January 26th. The five officers who caused Nichols' death were also indicted on this day. A grand jury found each officer guilty of aggravated assault, second-degree murder, two charges of aggravated kidnapping, two charges of official misconduct, and one charge of official oppression.
https://www.cbsnews.com/video/memphis-police-chief-calls-tyre-nichols-video-heinous-reckless-and-inhumane/#x
The next day, on January 27th, the footage of Tyre Nichols' brutal arrest is finally released.
WARNING: This video may be unsettling for some viewers.
Video shows Memphis police officer officers brutally beating …www.wral.com › video-shows-memphis-police-officer-off…
Protests for Tyre are currently taking place all across the country. What happened to Tyre Nichols was a tragedy that could have been avoided entirely. He should be remembered not as a victim, but as the skateboarding, photography-loving, father and son that he was. The fight for justice amongst police brutality victims will not end until the brutality itself does.