Why Freedom of Religion Is Extremely Important
Freedom of Religion in America and the Consequences if It Were Taken Away
According to Open Doors' World Watch List, 1 in 8 Christians around the world are persecuted for their faith every day. That's over 300 million people. 300 million people that suffer every day, just because they believe in God. In America, we have the freedom of religion, something I sometimes take for granted. Whenever I hear stories about people in African or Asian countries being forced to worship and read the Bible underground for fear of being killed, however, I stop and think about how thankful I am to live in a country with freedom of religion.
For specifics, 1 in 6 Christians in Africa are persecuted, 2 in 5 in Asia, and 1 in 12 in Latin America, as of 2021. During a reporting period from 2020 to 2021: 4,488 Churches or Christian buildings were attacked; 4,277 Christians were unjustly arrested, detained or imprisoned; 1,710 Christians were abducted for faith-related reasons; and 4,761 Christians were killed for their faith. On average, that's 13 Christians killed for their faith every day.
Last year, North Korea was the number 1 worst country for persecution, but this year, because of the Taliban attacks rising in frequency, Afghanistan is the new number 1. Nigeria is also a very hostile place for Christians. In Nigeria, "Men and boys are particularly vulnerable to being killed. The women and children they leave behind are often displaced to informal camps, face sexual violence, and are even at risk of abduction and forced marriage." In China, countless Christians also face persecution. "The policy of 'Sinicizing' the church has been implemented nationwide, as the Communist Party limits whatever it perceives as a threat to its rule and ideology. Thousands of churches have been damaged or closed. In some parts of China, children under the age of 18 aren't allowed to attend church—part of the country's efforts to stunt future growth".
Although many different religions face persecution, Christians are some of the most heavily persecuted throughout the world, usually by other religious extremists. According to an interview from Rome Reports, if you take the total number of people being persecuted because of their belief, 82% are Christians.
In America, the freedom of religion is a constitutional right. The government can't set one religion – or no religion – that the entire nation has to follow. We have the freedom to go to church every Sunday, to carry around a Bible in public, and to worship in broad daylight. I go to church on Sundays and youth group on Wednesdays every week with no consequences. I often don't stop and think about the young Christians just like me all over the world that don't have that privilege.
We also have the freedom of no religion. If you're an atheist, no government official is going to force you to believe in something. Both religious and non-religious people are appeased by having the freedom of religion. If that freedom was taken away, our nation would be a lot more hostile and unhappy, just like in other countries.
Some atheists feel that religion, specifically Christianity, is hateful and divisive and should therefore be gotten rid of all together. They claim that religious people have an excuse to be hurtful. In actuality, an estimated 350,000 religious congregations operate schools, pregnancy resource centers, soup kitchens, drug addiction programs, homeless shelters, and adoption agencies. These efforts serve 70 million Americans each year and the value of their services are estimated at over a trillion dollars annually.
I can't imagine my life without being able to express my faith. Christianity is a huge part of my life and I'm so privileged to live in a country where I don't have to fear death or imprisonment. I know I'm not the only one who feels the same. Many Christians who live in countries where they face persecution move to America because they know they'll be safe. If the freedom of religion was taken away, this country would be a much less happy place, for religious people and those who benefit from their organizations. Having freedom of religion is extremely beneficial to everyone and it shouldn't be taken away.
About the Contributor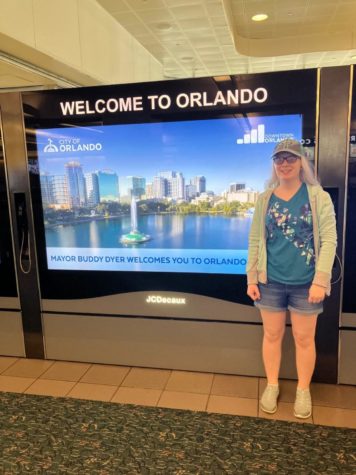 Lyra Thompson, Staff Writer
Lyra Thompson is 16 years old and a junior at Bonner Springs High School. She's had a passion for writing from a very young age and wants to be a fiction author and journalist in the future. In school, Lyra is involved in choir, theater, Scholar's Bowl, and Science Olympiad. In her free time, Lyra loves to read, sing, play video games and board games, and watch TV.