Jayhawks Game Preview 10/1
Jayhawks Game Preview 10/1:
The Iowa State Cyclones are coming to Lawrence, Kansas to play the Jayhawks at the Booth. Currently, the Jayhawks are 4-0 in their most impressive start to the year, and in my opinion, should've been ranked. And the
Cyclones are currently 3-1 losing to Baylor in a close game. The Cyclones are coached by Matt Campbell in his
7th year coaching at Iowa State. While the Jayhawks are coached by Lance Leipold who in his second year is making Jayhawk fans believe again. Both teams are off to good years but that doesn't matter in CFB. On any given day, anything can and will happen. In my honest opinion, it will be a quarterback battle. And the Jayhawks have Heisman candidate Jalon Daniels, who's playing like he's Todd Reesing for those older KU fans. The Cyclones have Sophomore Hunter Dekkers. Who is replacing Brock Purdy who went to the NFL and is a part of the San Francisco 49ers. This will be a fun game to watch as both teams are ready for the game.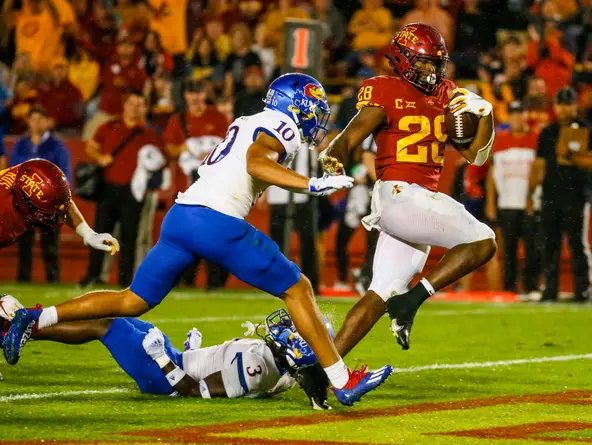 Some strength both teams have is that the Jayhawks have a stout offensive line, that can block on our potent rushing and passing attack. But however, to combat that, Iowa States' rushing defense is pretty good in its own right. This means the Jayhawks will have to work even harder than they have. The secondary for Iowa State is alright but nothing to scoff at so either way Jalon Daniels will work as hard as he can. Another strength of the Jayhawks is their defense. They may not be the greatest on paper, but when they need to hold they hold for sure. Lonnie Phelps, a transfer from Miami of Ohio has been a baller. Another player to mention is Kenny Logan, one of the best safeties in the Big 12 and in all of college football. One strength that has been talked about is the Jayhawk's home-field advantage. Oh my gosh, it feels amazing to see all the Jayhawk fans pack the Booth and make that place tough for opposing teams. We may have only had one real game of that crowd, but it will be even louder on Saturday since it is the Homecoming game. 
Jayhawk supporters are more than eager to make the trek out and support this team. This team is the best since 2007 when Aquib Talib, Todd Reesing, Kerry Mier, and many more stars littered the team.
Starting off 5-0 would be the dream scenario for the Jayhawks since we've never even come close to that in so many years. And maybe just maybe the AP poll could rank us for that. But Iowa State hopes they can up-end their rivals in the game.
Historically, the Jayhawks have had their number in terms of winning percentage winning 50 times against them in the past. But Iowa State is getting back up there with 45 wins of their own. And the Cyclones won the last seven times they've played KU. One of them was a tough loss in Ames, Iowa when I was 11 at Jack Trice Stadium. Will the Jayhawks buck the trend? Or will Iowa State keep stale narratives? I'm not a wizard, I'm a writer so I have no idea what could happen on Saturday. But I do think the Jayhawks will go out there, play hard, and show everyone how hard they've worked this season so far. And give them more reasons to be a Jayhawk fan!
About the Contributor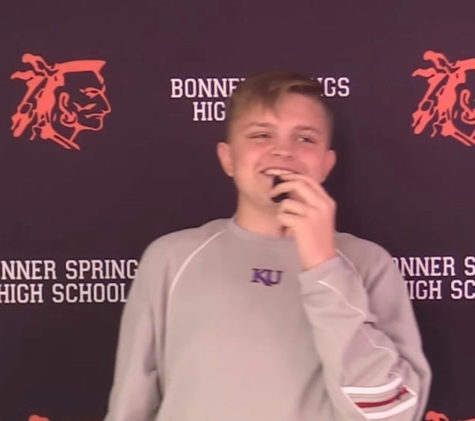 Madden Rausch, Writer
Madden Rausch is a freshman student at BSHS. He is involved in Band, Academic Decathlon, and of course Newspaper. He is a Chiefs, Royals, Blues, Sporting KC, Nottingham Forrest, Jayhawks, and Oklahoma City Thunder fan as well. Mostly sports writing, but more non-sports stuff could be coming in the future!