MLB Postseason Report – AL
MLB Postseason Report – AL
AL 1st Seed Houston Astros: 
The number one seed in the AL is as dominant as ever in H-Town. Astros fans have enjoyed this season from Yordan Alvarez hitting the ball 450 feet, to Justin Verlander pitching as he did in Detroit, and much much more. The Astros' main strength is quite frankly the pitching staff, even though the hitting is also pretty good. Their highest ERA (earned run average) is 3.88. That is pretty impressive, but the key for the Astros is to try and get back to the World Series and become champions again. Last year they were upended by Atlanta, but this year may be different.
AL 2nd Seed New York Yankees:
As with most Yankees seasons in recent years, this year left a lot to be desired. They were off to a scorching pace with Aaron Judge destroying baseballs, the bullpen being feared, and the Yankees being the best team in the MLB. It was near perfection for Yankee fans until the trade deadline. After the deadline they played like the worst team in baseball, in fact, the Royals were even playing better. From a hitting core that was cold with a side of cold to a pitching staff that could get no help from the bats, a bullpen that looked mortal, and trade deadline acquisitions that flopped brutally. The postseason is the true test for the Yankees, sink or swim.
AL 3rd Seed Cleveland Guardians:
Someone had to have come out of the AL Central. Speaking of AL Central it was a tight race, but Cleveland ended up finishing with a division title. It was a better year for Cleveland than expected. They have a good three pitchers with Shane Beiber, Triston McKenzie, and Cal Quantrill. However, their hitting core is ice cold, besides Jose Ramierez and Andres Gimenez. As long as the hitting core can help out Gimenez and Jose Ramierez they will be ok. The team the Guardians are playing in Tampa Bay will make a good series, and I don't know who would win that. Will the Guardians shock the world? In my opinion, it's up to them.
AL 4th Seed Toronto Blue Jays:
Didn't look like Toronto would've made it back in June, but anything can happen in baseball. After firing their manager, John Schneider rallied the team and brought out a true core of the team. That core being Vladimir Gurrero Jr., Bo Bichette, Teoscar Hernandez, George Springer, and Alejandro Kirk. Those players in a hitting core are lights out and they've shown that this year. The pitching staff has just been good enough to keep them in games, led by Alek Manoah. The main thing is can the pitchers keep up with Seattle? Seattle has been rolling for the past few months and it will be intriguing to see. Either way, the series goes, the Blue Jays will fight and claw their way to advance. With games being down to the wire, and too close to even acknowledge, the Blue Jays need to fly, not fall. 
AL 5th Seed Seattle Mariners:
What a season it's been for Seattle! Not only making the postseason with a new core of players but also making it since 2001. When you glance over the Mariners' roster, their stats scream mediocre. When you watch them play, they are far from it with a hitting core led by Julio Rodriguez. He is the next big thing in Seattle and they knew it by giving the 21-year-old a 12-year 209.3 million dollar contract. He will be in Seattle for a while hitting home runs at the field. Another player to note is Ty France who is a good contact hitter, that gets a lot of bases. Their starting may not be the best, but they get the job done. The real star of the team is the bullpen. They are consistent and get the job done, and that is what you need in the postseason. The series against Toronto will definitely be one to watch.
AL 6th Seed Tampa Bay Rays:
The Rays barely made it, but it is a testament to the fact that they will not give up. Most of their impact players like Mike Zunino, Kevin Kiermaier, Shane McClanahan, and more were out. That doesn't matter in Tampa though, next man up has been the case. It's been the usual strength for Tampa Bay so far, good pitching staff and a great bullpen. The fact that nearly every year the Rays find random players in the minors, trade, DFA claims (Designated for Assignment), and can make them into good players is a testament to how good they are at developing players. Honestly, the Rays are lucky to have even made it to the postseason because of how many injuries there were. Now will it be enough to be Cleveland, that's a question indeed. But it would be nice for Tampa to sneak out a postseason win and convince the city to a new stadium.
Conclusion/Predictions:
The American League is a very interesting league. However, I think the Astros will come out for the AL and become winners of that league for a second time. I think the games will be good and the crowds will be loud. Play ball!
About the Contributor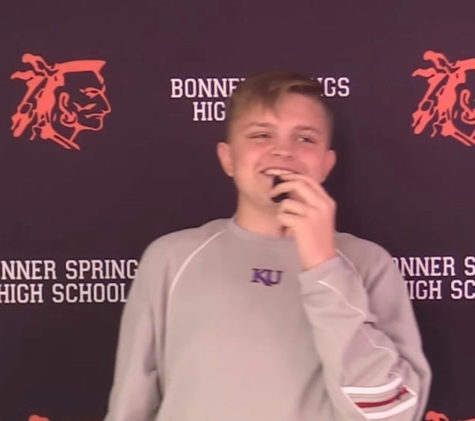 Madden Rausch, Writer
Madden Rausch is a freshman student at BSHS. He is involved in Band, Academic Decathlon, and of course Newspaper. He is a Chiefs, Royals, Blues, Sporting KC, Nottingham Forrest, Jayhawks, and Oklahoma City Thunder fan as well. Mostly sports writing, but more non-sports stuff could be coming in the future!