NHL Hockey: Eastern Conference
Boston Bruins:
The Bruins are in one of many last-chance years, all of their veteran players aren't getting younger. They have David Krejci back from the Czech Republic season which is nice for their depth. Patrice Bergeron's back that also helps, but it seems like the Bruins are going to rebuild in the future, at least to me. In a winning city, I don't know if the fans will accept a rebuild, but it will be needed. There's a dilemma of bringing back David Pastrnak; he is in his last year and I don't think the fans will be happy if he leaves. This will be a rather telling year for Beantown. 
Buffalo Sabres: 
Sabres showed some improvement last year with their young players coming up the ranks and showing that they have hope for the future. Tage Thompson and Dylan Cozens are going to be a good duo for years to come. This year nothing is expected again for Buffalo, which is good because a team can shock you when they have no expectations. Whether that be a good shock or not. This year could revive hockey culture back in Buffalo.
Carolina Hurricanes:
Hurricanes are looking to strike this year. Last year, they were good but fell short due to not winning a single game on the road during the playoffs. Now they are looking for something more from the group. Guys like Aho, Svechnikov, Pacioretty, and more are primed for a good season with the club. Even though losing their best defenseman in DeAngelo sucks, they can replace him through the prospect pipeline. All the Hurricanes need to do is keep on going.
Columbus Blue Jackets:
Speedrunning a rebuild in Columbus I guess? The once "small-market" city brought in a big fish acquiring Johnny Hockey for a bargain compared to the offers he was receiving. This is huge since it shows that a star player wants to play in Columbus. They are no longer a pushover. With prospects coming the Seth Jones trade to Chicago it is showing to be one of the biggest fleeces in the NHL has seen in a good bit. This year is more building, if they can keep building they can be a force to be reckoned with.
Detroit Red Wings:
Red Wings are still a work in progress. They have some youth talent that can't be denied, but can take the next step? Lucas Raymond and Moritz Seider are legit talents, but remember, hockey is a team game; they need better depth and better goaltending. Husso and Nedeljkovic are going to be a good one-two punch, but the defense will need to step up. With a new coach, his new philosophies could work with the defense. 
Florida Panthers:
The Panthers have been all in for 3 seasons and still haven't made it past the 2nd round. Their talent is undeniable, but their consistency is interesting. One moment they are down 4-0, the next they win that game 6-4. Will the real Panthers please stand up because they are cup contenders, but will they play like cup contenders? Has the goaltending gotten better? Will the losses of Huberdeau and Weegar be made up with Tkachuk? Time will tell.
Montreal Canadiens:
Montreal two seasons ago were in the Stanley Cup, now they are rebuilding faster than you can say Carey Price. Speaking of Price, he's going to need surgery again and he might retire because of the whole thing. The team itself is not really that talented, besides Suzuki and Caufield. Another year picking up the pieces, but Martin St Louis will rally these players to play up to the talent. Otherwise, it's another rebuild taking place in Montreal.
New Jersey Devils:
New Jersey was trying its hardest to get Johnny Hockey but fell short in the end. Even if they had him they'd probably be locked into mediocrity. The team is still young and looking to be better. If Mackenzie Blackwood can go back to being a good goalie that would be great. This is just another year of getting pieces to complete the puzzle. Dougie Hamilton can lead this team to where it can be, I trust his leadership.
New York Islanders:
The Long Island crew is looking to put last year in the past and play up to its potential. Under Barry Trotz's assistant coach, Lane Lambert, it will be rather telling to see what they do. Their offseason was really quiet until they signed Matt Barzal to a 7-year contract. This year, they won't start on a long road trip which is a plus. All Long Island can hope is that they heal up and score goals.
New York Rangers:
The Rangers are an interesting team based on talent alone. They may not scream cup-contending talent, but they play like a cup-contender. Yes, they usually get outshot in games, but Igor Shesterkin is playing like prime Martin Brodeur in the playoffs and the regular season. Gerrard Gallant is rallying the men to play better than what they say. If they can play better in the playoffs, they will be set. They also have to replicate that play in the regular season.
Ottawa Senators:
Sens fans had a dream offseason by trading for Alex DeBrincat, Cam Talbot, and signing local boy Claude Giroux. Last year was just building for this year, they have expectations to potentially go far in the playoffs with their new-found talent. Now do I think they will go far? No, this year will be a learning experience for their young talent. There is still no news on Drake Batherson and Alex Formenton on the Hockey Canada scandal. I don't know what is going on, but I hope the NHL makes the right decision.
Philadelphia Flyers:
The Flyers are the worst-constructed team in the NHL in my honest opinion. There are multiple philosophies from general managing regimes and quite frankly they don't mesh at all. Bringing in hard-nosed hockey guy John Tortorella as coach will work for a year and then the players will get tired of his tactics. Trading for Tony DeAngelo was probably not the best decision based on the locker room. The Flyers are one of the teams I think could finish last in the conference because the team is a mess. Who knows, they could turn it around.
Pittsburgh Penguins:
At the beginning of the offseason, the Penguins had two paths; one, the path of rebuilding and admitting the current core did so much and now they can't get another cup, or kicking the can down the road until you have to rebuild. To some people, it's noble because of not giving up on the team, but it's just ignoring something until you can't ignore it. The Pens took the other path by re-signing 36-year-old Evgeni Malkin and 35-year-old Kris Letang to 4-year contracts. This is definitely a last-chance year because Malkin, Crosby, and Letang might regress further. If they don't win a cup they might have to for real start a rebuild.
Tampa Bay Lightning:
Well, the Lightning were eventually going to get de-throned. Not to say Tampa had a bad team that year because it was still one of the best in the league. All they need is to keep on going, they already got the stamp of being a legit dynasty, but now they will have to prove it after losing the Stanley Cup to Colorado. I think they could go to a 4th straight Stanley Cup final based on talent and coaching alone. Guys like Stamkos, Kucherov, Vasilevskiy, and Brayden Point are going to lead this team to greatness and maybe even more.
Toronto Maple Leafs:
The Maple Leafs lost another series and have not made it past the first round since 2004. Torontonians are expecting way more out of the core that is one of the most expensive in the NHL. Last year, they didn't blow the series they just lost, unlike every other year. This year, they should go far but I don't know if they are going far or keeping the streak alive. They are really just a coin flip.
Washington Capitals:
The Capitals came up short again in the first round like they have since they won the cup in 2018. Their current core is in their mid-30s and signed for contracts into their late 30s-early 40s. The Capital's depth is not that good so they'll need to improve on it. Otherwise, all you have to do is hope that your core has one deep run left in them but not really much you can do.
About the Contributor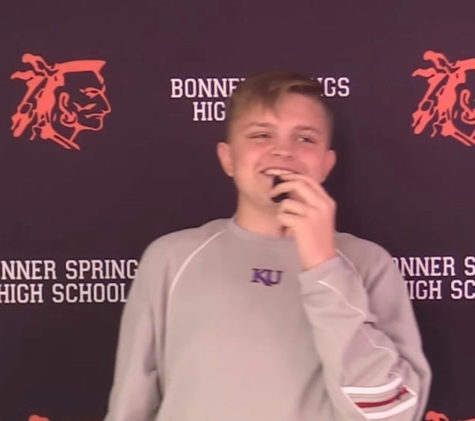 Madden Rausch, Writer
Madden Rausch is a freshman student at BSHS. He is involved in Band, Academic Decathlon, and of course Newspaper. He is a Chiefs, Royals, Blues, Sporting KC, Nottingham Forrest, Jayhawks, and Oklahoma City Thunder fan as well. Mostly sports writing, but more non-sports stuff could be coming in the future!