NHL Hockey: Western Conference
Anaheim Ducks:
There's some interesting stuff going on in Anaheim. This is a new era, one with more speed and skill led by Trevor Zegras. Last year they on to a strong start, but fell flat in the end. Now that there are expectations and new fan support it will be intriguing to watch. Personally, I think they could make the playoffs, but they are a mystery box.
Arizona Coyotes: 
Coyotes are predictable about who they are going to be. They are still rebuilding, but at least they will have Logan Cooley play some games at center. Really this year is one of many rebuilding years ahead. With Jacob Chychrun and Clayton Keller carrying the team to relevance. The on-ice product doesn't matter, at least in their college arena. There's no way there should be an NHL team playing at a college arena (Mullet Arena at ASU) but that's beyond me.
Calgary Flames: 
The Flames were probably the best team in the offseason. Not just acquiring Jonathan Huberdeau and Makenzie Weegar, but also signing them to extensions and bringing in cup winner Nazem Kadri as well. They may have lost Matt Tkachuk, but acquired so much that it won't be too much of an issue. The main question with this team is goaltending. Will Markstrom ball out or fall flat again? Who knows, but they should compete for a cup this year.
Chicago Blackhawks: 
I'm sorry, but the Blackhawks maybe be the worst organization in the NHL right now. The team's overall talent being bad doesn't matter, but the way they handled that sexual abuse scandal back in 2010 was terrible and a disgrace to the NHL. The people involved should never be in hockey again. Currently, the team is terrible, their star Patrick Kane wants out, and they have no future. They would have good prospects, but they traded Alex Debrincat and Adam Boqvist. It will be a rough next few years for Blackhawks fans.
Colorado Avalanche: 
The Avs are looking to repeat a Stanley Cup champion season, and quite frankly they could easily repeat with all of the talents they have. They have the best team in the NHL and the best team Colorado has ever seen. They will have to go through a bunch of good teams in the west, but if they play like they did last year, it will be a cakewalk for the Avs. Especially with star players like Cale Makar, Nathan MacKinnon, Gabriel Landeskog, Mikko Rantanen, and more.
Dallas Stars:
Stars are very old and are on their last legs. The youth brought up is doing well but veteran players like Jamie Benn, Tyler Seguin, and Joe Pavelski are close to retirement. Jason Robertson has been a baller for the Stars and has been a good young player. The Stars knew this and they extended him for four more years. Another good young player is Jake Oettinger their goalie; he also got extended. If the youth players can keep playing better, they will be better. 
Edmonton Oilers:
Oilers had a strong season with Connor McDavid, Leon Draisaital, and Ryan Nugent-Hopkins. There is one big weak point on the team, goaltending. Mikko Koskinen wasn't that good and Mike Smith was inconsistent and is now on LTIR (Long-Term Injury Reserve). If Edmonton can get their goaltending in order, they will be a very tough team to play. Otherwise, they won't go as far as they did last year.
Los Angeles Kings:
Kings are flying by their supposed "rebuild". They have a strong team right now and will in the future. All the Kings can hope is they keep up the pace they are on, and that Quentin Byfield takes the awaited next step into becoming a good NHL player. If I was a GM I would love to be in the King's situation because there's a lot of hope and potential in LA. Hopefully, it's not false hope.
Minnesota Wild:
The Wild are looking to improve after their disappointing first-round exit against the Blues. Kiril Kaprisov is still here scoring goals and on his way to being the best play to ever play for the Wild. It really stings losing his best winger in Kevin Fiala due to the salary cap. This is definitely a prove-it year for Minnesota. Are they legit, or are they just another team in a league? 
Nashville Predators:
Nashville is one of the most puzzling teams in the NHL. They could be good and make the playoffs, or they could fall to a brand-new low. Whatever happens, will be very interesting because this team could go far if they play hard enough. Iaroslav Askarov, Phillip Tomasino and more could be contributors this year, but they could also spend another year in the AHL. In Juuse Saros they trust.
San Jose Sharks:
Another year of drifting is taking place in Sharksland with awful contracts lining up the team: Marc-Eduard Vlasic and Erik Karlsson being some. The Sharks are projected to have another rough season as their team is uninspired and past their prime. With new management, the rebuild will officially start, and some players will most likely be on their way out, or they potentially might be bought out. Whatever happens, will be quite needed.
Seattle Kraken:
Seattle is still getting used to NHL hockey as another year is taking place in the rainy city. The team is still not the greatest but fans will be excited to see the young duo of Matty Beniers and projected #1 pick, Shane Wright, who fell to #4. Seattle will hope their coaching gets better and Phillip Grubauer can return to his form with Colorado. If not it will be a rough year for the Kraken.
St Louis Blues:
And now to my favorite team, the one and only St. Louis Blues. They had a great regular season last year, but you could say that for every single year of this team's existence. Losing to their rival Colorado on a last-second goal stings badly, so the Blues are looking to improve from last year. Their youth players Jordan Kyrou and Robert Thomas were both extended to 8-year contracts. Binnington will hopefully be healthy and maybe end his tirade by throwing water bottles, but we don't know. This team is playoff-caliber, but it depends on how far they go. They are either going all the way to the Stanley Cup or losing badly in the First Round.
Vancouver Canucks:
Canucks were very close to the playoffs, but a dreadful start ended any chance of that happening. With new management in Jim Rutherford and 'Barbeque" Bruce Boudreau, it will be a "prove it" for the core. They can make the playoffs, the question is, will they be for real? Will the goaltending play up to its potential? Will Petterson and Hughes keep on balling out? I have a hunch Vancouver wants to win.
Vegas Golden Knights:
The Vegas Golden Knights are my least favorite team in the NHL. There I said it. On paper, their team is really good and should compete for a cup, but the way they deal with players is completely unjustified. They will trade for someone, sign them to a contract, and then one year later trade them for nothing. Just like what happened to Max Pacioretty in the offseason. They are currently 20 million over the salary cap, even with Lehner and Weber going to LTIR they'd still be 8 million over the cap. They will probably have a good season based on talent alone but I just can't get over the turmoil.
Winnipeg Jets:
The Jets will be a decent team that should be good. They have the pieces to be good but not the whole puzzle. They have players like Mark Schiefele and Conor Hellebuyck, but they also have Dylan DeMelo being one of their "best" defensemen. With no-nonsense coach Rick Bowness they will keep the players in check. They are playing like they did when they were in Atlanta, good players but a mediocre team. All they can hope is Conor Hellebuyck can go back to balling out in the net. 
About the Contributor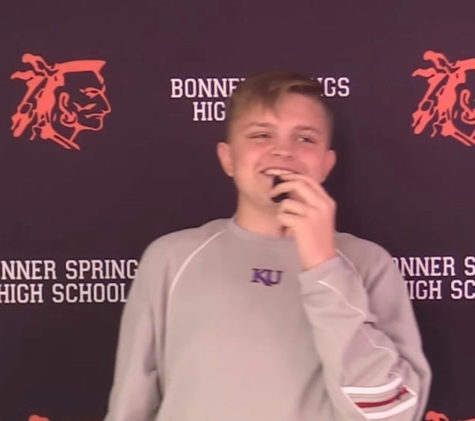 Madden Rausch, Writer
Madden Rausch is a freshman student at BSHS. He is involved in Band, Academic Decathlon, and of course Newspaper. He is a Chiefs, Royals, Blues, Sporting KC, Nottingham Forrest, Jayhawks, and Oklahoma City Thunder fan as well. Mostly sports writing, but more non-sports stuff could be coming in the future!