NBA: Eastern Conference
Atlantic Division:
Boston Celtics:
The Celtics, after being defeated in a six-game series are now looking for answers for if that was a fluke run or if are they a good team. They will not have their coach however since Ime Udoka was involved in a scandal and was suspended for the year. The odds are stacked against them but I would be rooting for them because they have my favorite player Danilo Gallinari. But now since he tore his ACL I'm rooting for him on his road to recovery.
Brooklyn Nets:
Very hectic offseason for the Nets with them being near close to blowing up the roster with Kyrie and Kevin Durant trade rumors running wild. After roster turnover really all the Nets have is Kyrie Irving, Kevin Durant, Ben Simmons, Nic Claxton, and bench players. It's sad to say for Nets fans but there's a good chance this team isn't making the playoffs. But the Nets might prove doubters wrong.
Philadelphia 76ers:
The Sixers had a relatively quiet offseason with nothing of note going on. They aren't really getting that much attention since the Phillies are in the World Series and the Eagles are currently 6-0. James Harden will need to show up in the playoffs to justify the trade made with the Nets. And Joel Embiid needs to truly show that he's a top-5 NBA player.
New York Knicks:
Knicks had a disappointing year compared to when they went to the playoffs the season before. Sorry, Thatcher but I don't know if RJ Barrett is the truth. He will show that he's a rising star and then show how he isn't. It's even tougher when the Knicks had a 20% chance of getting the 1st pick that year. Anyways Jalen Brunson will need to take the next step toward becoming a star player, and not just a duo with Luka. 
Toronto Raptors:
Any other year, the Raptors would've missed the playoffs but their team is well-coached and has great chemistry. Even though they are still missing Kawhi Leonard three years later Scottie Barnes and Paschal Siakam will definitely be a good duo for years to come. They are a very strange team, they can make noise but they can also crater like they did a season ago. I don't think Torontonians will like a down year.
Central Division:
Cleveland Cavaliers:
Cavs won the offseason by acquiring the best player. Yes, Donovan Mitchell is a Cav despite being rumored to get traded to the Knicks and is going to a third-party team. Donovan Mitchell will be the superstar player they've sorely missed since Lebron's final ride. The surrounding team is also very good with Evan Mobley and Darius Garland. They are personally my pick to go to the finals based on depth. But logically, they will probably make the playoffs but I don't know where they'll land. Cavs fans will at least be happy.
Chicago Bulls:
The Bulls have made a big decision in signing Zach Lavine to a 4-year deal. He is a star player and he deserves it and his production will hopefully not decline. Other than that it was mostly crickets, just nothing done in the offseason. The Bulls desperately needed to bolster their depth and they just didn't do that. They will still be a good team but I don't know about making it past the first or second round. At least Chicago will have a good sports team.
Detroit Pistons:
Motor City miracle team is coming up. They have a lot of potentials and promise on the horizon with Cade Cunningham and Jalen Ivey. They have a good amount of depth that could become core contributors. Things are definitely going up in Detroit but I don't know if you keep Dwayne Casey. He is a coach with pedigree but he hasn't really gotten the team anywhere of note. They will make the right decision however because I am not an executive but who knows? I do know there will be some progress.
Indiana Pacers:
The Pacers struggled mightily last year and showed why Indiana needs to start a rebuild for their team. They just couldn't get it done and the management knew it. Out goes Domantas Sabonis, and in comes to a young star potential point guard Tyrese Haliburton. This year will be more of the rebuild last year but the Pacers will make some strides to get better under Rick Carlisle. 
Milwaukee Bucks:
Milwaukee was outmatched against Boston and it looked like they were pretty mortal compared to their team in 2021. 2022 however is mostly the same team with Giannis and Khris Middleton. They will definitely be contenders for the East but I don't know if they'll reach the finals as they did. They at least capitalized on the opportunity which is enticing for players to stay. 
South East Division:
Charlotte Hornets:
The Hornets dealt with a lot of turmoil during the offseason from players getting arrested and more leaks coming out. Michael Jordan shouldn't be happy with his team because they could be so much better if it weren't for the distractions. LaMelo Ball will also need to show that he is a star in the league as last year he couldn't lead them far. This team just screams play-in round cannon fodder. But I could be totally wrong, and I usually am so they will probably make the playoffs. 
Orlando Magic:
The Magic are still rebuilding with no end in sight so far. They do have Paolo Banchero which will be nice until they under-utilize him. There's some hope for the Disney-sponsored team though with young players and J-Cole as a fan. They will most likely not be good, but they are in the same spot as the Thunder right now.
Washington Wizards:
It was a close one but Bradley Beal is still a Wizard. It was looking a little risky when he declined the player option but he then signed a 4-year contract in free agency. The Wizards are in the doomed mediocre spot. They don't have a good enough team to compete for a playoff spot but also don't have a bad enough team to finish near the bottom. Maybe a rebuild is on the horizon but no clue.
Atlanta Hawks:
Trae Young has another wingman to be in his backcourt duo. Dejounte Murray is now a Hawk and was completely overpaid in the trade market by giving up 3 first-round picks. That is mind-blowing. The Hawks will be better and maybe, just maybe they could make it to the finals. But now with a strengthened East it will be rather telling what happens. 
Miami Heat:
On paper, the Heat shouldn't be that good because the talent level isn't up there. But the coaching really brings the team up and makes the players better. Jimmy Buckets is still playing like a baller in South Beach. The Heat will need to be hot during the year like they usually are and bring that to the playoffs. If they can do that, they will be a team to fear.
About the Contributor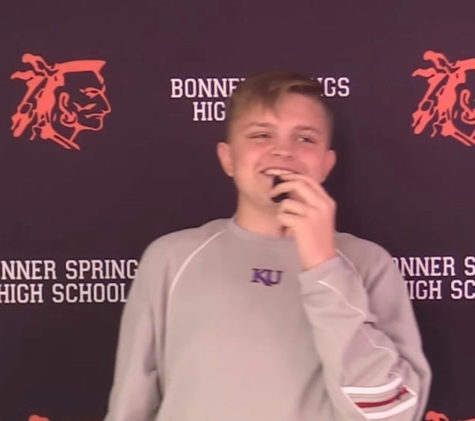 Madden Rausch, Writer
Madden Rausch is a freshman student at BSHS. He is involved in Band, Academic Decathlon, and of course Newspaper. He is a Chiefs, Royals, Blues, Sporting KC, Nottingham Forrest, Jayhawks, and Oklahoma City Thunder fan as well. Mostly sports writing, but more non-sports stuff could be coming in the future!