NBA: Western Conference
Pacific Division:
Golden State Warriors: 
Another year of title defense for the Warriors. This time it's a team with Steph Curry, James Wiseman, Andrew Wiggins, and more. The Golden Dubs could easily miss the playoffs but could easily win another final like old times. But honestly, I really don't know how they'll do due to a declining Western Conference.
Los Angeles Lakers:
The Lakers are lining up for another round of certain doom in their "window" for title contention. The Lakers were terrible last year with Lebron, Anthony Davis' injury concerns, and Russell Westbrook missing a ton of shots that'd make Ben Simmons look amateur. The team didn't get better, and they would've at least gotten a top-10 pick but they traded it for Anthony Davis. I think the Lakers will have another sub-par season then Lebron will leave once Bronny James gets drafted to a lousy team and team up with him.
Los Angeles Clippers:
The Clippers struggled hard without Kawhi Leonard, with Paul George trying to carry the team to no avail. The team will most definitely be competitive against a bunch of other Western Conference teams. But also their upside is the 2nd or 3rd round, unfortunately. They will need a lot of career years if they want to go far.
Phoenix Suns:
The Suns are still a good team that can't be denied, but I just can't root for them. Not because of their players but because of their owner Robert Sarver. Not only penny-pinching in free agency but also being involved in a scandal where he might have to sell the team. The Suns will make it far, but how far is the main question. 
Sacramento Kings:
The Kings have a rebuild on their hands, again. Although they do have good players to build out the team like DeAndre Fox, Domantas Sabonis, Davion Mitchell, and Keegan Murray. The plan apparently is to keep rebuilding and if the players keep developing they will be more than golden. Otherwise, not much to note this year.
NorthWest Division:
Oklahoma City Thunder:
OKC is still building and this will definitely be a rebuilding year. It would be fun to watch if Chet Holmgren didn't get injured for the season. Until then it will be Shai Gilgeous-Alexander proving that he's the most underrated player in basketball and Josh Giddey playing well and proving me wrong. Mark Daigneault has a lot of work to do but also after three years, he might not be the one to get the job done. This year will prove a lot to Thunder fans.
Utah Jazz:
Jazz is joining their rival OKC in the rebuilding corner. This offseason was a farewell for Jazz fans, a farewell to the best team they've had since the 90s, a farewell to their head coach, and a farewell to optimism for the next few years. After trading Donovan Mitchell to the Cavs and trading Rudy Gobert to the Timberwolves, the Jazz has become draft lottery contenders. This year will b a rebuild for sure.
Portland Trailblazers:
Damien Lillard and his friends have some work to do in the West. They missed the playoffs last year and more is expected from them. Chauncey Billups as the coach has led to mixed results so it'll be telling what happens this year. Since they aren't really rebuilding but they also aren't really making moves to compete. Time will most certainly tell.
Minnesota Timberwolves:
The Timberwolves have one phrase, all in. They are tired of being a punchline of the West and now with trading for Rudy Gobert, they have solidified that statement. That big-man duo of Karl Anthony Towns and the aforementioned Gobert will be a force to be reckoned with. Anthony Edwards is also a star player but also needs to stop making offensive comments. If he for real apologized and stops doing that it'd be good for everyone. Anyways there is hope and optimism in the Tundra.
Denver Nuggets:
At least there's a team in Denver that has a shot at winning a championship. The Nuggets are a strong team but just can't finish when it matters. Nikola Jokic is still here being a top-3 player but everyone else has potential but not taking the next step besides Jamal Murray. The Nuggets will be one of those strange teams that you don't really know where they'll go. Either way, this will be one of the most interesting teams to watch in the NBA.
Southwest Division:
New Orleans Pelicans:
There's a whole lot of promise in the mouth of the Mississippi. The Pelicans have a respectable, competitive team led by Zion Williamson. He has lost weight and is in the best shape of his career. Also All-Star guard CJ McCollum is also a good veteran influence. The Pelicans fans deserve a good team after dealing with mediocrity, and now with a newfound core, it's lining up to be a season that will shock people.
San Antonio Spurs:
The Spurs are finally accepting defeat and rebuilding. It took them a while but now they are starting over. DeJounte Murray was not going to play for a rebuild so he's traded for draft picks. It is a sad way to end a dynasty with Greg Popovich but it needed to be done. They will definitely be competitive with his coaching but not like they were with Tim Duncan and Tony Parker. Other than seeing young players, this year will be a year Spurs might want to forget.
Houston Rockets:
The rebuild continues in Houston. With the hope of a new core led by Jalen Green and Jabari Smith, they will be intriguing to watch this year. Those two players are really the only bright spots everyone else is too young or veteran placeholders for the time being. They will definitely be improved this year but I don't see them making the playoffs. But they will be a fun team.
Dallas Mavericks:
The Mavs under former player Jason Kidd have adversity after being beaten by Golden State in the semi-finals. However, they don't have Jalen Brunson this year which is going to hurt since he was one of their best players. But at least Luka Doncic is making his case for being the best player in basketball. In my opinion, they will be finals contenders but anything more than that is questionable.
Memphis Grizzlies:
Memphis has a lot of hope for its basketball team. With Ja Morant and Jaren Jackson that hope isn't foolish. The Grizzlies fought hard against the Warriors but were on the shorter end of the stick. They shouldn't be worried though because they will be one of the best teams in the Western Conference. They might even make the finals but who knows honestly.
About the Contributor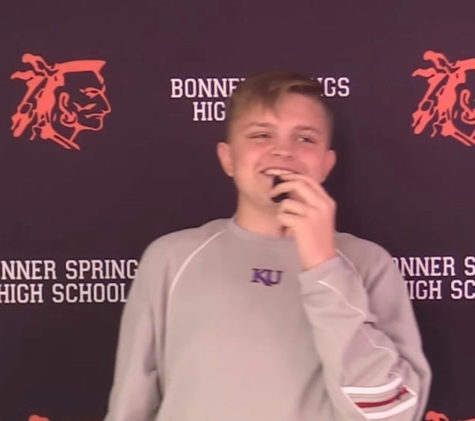 Madden Rausch, Writer
Madden Rausch is a freshman student at BSHS. He is involved in Band, Academic Decathlon, and of course Newspaper. He is a Chiefs, Royals, Blues, Sporting KC, Nottingham Forrest, Jayhawks, and Oklahoma City Thunder fan as well. Mostly sports writing, but more non-sports stuff could be coming in the future!