Stars of Bonner Springs High School
An inside scoop on the amazing people that make BSHS great!
There are many amazing students and staff here at Bonner Springs High School, who deserve to be recognized! Each week, we are excited to highlight the students and faculty that make our school great!
Fan of the Week
We love seeing school spirit here at Bonner Springs High School. We decided to start highlighting a fan of the week. That fan this week is Kalen Streit, a junior here at BSHS. We are highlighting him because of his outstanding and outgoing school spirit at the volleyball games. Kalen is always at the games and participates in the theme. He sets a good example for what school spirit should look like at sporting events here at Bonner Springs High School.
What is your favorite part of participating in Orange Crush?
"My favorite part about Orange Crush is how interesting a game can get."
What has been your favorite theme and cheer from Orange Crush?
"My favorite theme has been the jersey theme, and my favorite chant has been the roller coaster."
If you could change or add something to Orange Crush what would it be?
"If I could change anything it would be the amount of attendance we get for games."
Who makes the games memorable?
"The fans make the games memorable."
Who is your favorite school to compete against?
"My favorite school to play is Tongie because it's always been a rivalry."
Athlete of the Week
Last week the cross country team had a meet in Baldwin. Every person put in an amazing effort, but one player was able to break a school record. Cora Dow ran her best 5k race of the season finishing her race at 20:52, beating the school record by 15 seconds. We interviewed her about her amazing accomplishment as well as her participation in cross country.
How did you prepare for your race?
"Lots of Carbs and water the night before; having my brother there and mentally preparing with him."
How did you feel after learning that you broke the school record?
"As I was crossing the line, I saw my time and I knew that it was faster than the school record. I was so tired but it was one of the best kinds of tired."
What is your favorite part of running cross country?
"My favorite part is how hard it is. People think it's just running, but it's difficult. So it's rewarding when you finally get the time you've been shooting for."
Who has been your biggest supporter/inspiration for this sport?
"My brother, definitely. He comes to every one of my meets even if he's not running and he's always cheering me on."
What is your favorite course to run?
"I haven't run all of the courses, but my favorite would have to be Baldwin because that's where I broke the record."
Staff of the Week
Our staff members at school work hard in order to help make our school a better place. It's important to give them much-needed recognition. This week, the staff member we've selected is Mr. Davidson. We interviewed him about his life and career; he gave us great insight into his goals as a teacher as well as who he is as a person.
What is your favorite class to teach and why?
"I really obviously like working with my gifted kids because that's a fun dynamic. I also really like my Contemporary World Issues class; I'm always a fan of talking about current events and how they tie into history."
What is the most rewarding aspect of your job?
"One hundred percent the kids, without working with kids I don't know if this job would be all that fun, to be honest. Getting to hang out with you guys makes every day interesting. I really enjoy hanging out with young people and being able to help them in any way that I can."
Why did you choose to become a teacher?
"While I was in college, I took a job as a writing tutor and I found that I have a knack for explaining concepts to people. I found that I felt good about myself when I empowered somebody and helped them become a better writer, so I explored it more and the further I went into education the more I liked it."
Outside of teaching, what are your hobbies and interests?
"Well, it's pretty well known at this point that I am a farmer. I live on my family's farm and I do all kinds of stuff around there. That takes up a big part of my energy, but on the side, I enjoy writing stories and playing video games."
What is your best piece of advice for high school students?
"If you find yourself struggling in high school, it isn't because you are doing anything wrong in the grand scheme of things, it's because you're at a point in your life where you're still figuring out who you are and what you believe. It's easy to assume that the doubt you feel now will last forever, but it won't; as you get older you will get a sense of who you are and life will get a lot easier."
About the Contributors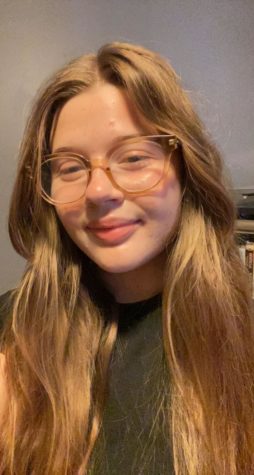 Madison Clark, Editor-In-Chief
Madison Clark is the Co Editor-In-Chief of the Newspaper. She is a senior this year and participates in National Honors Society, Orange Crush, and is a Library Board Member at the Bonner Springs Public Library. In her free time she enjoys writing, reading, and hanging out with friends.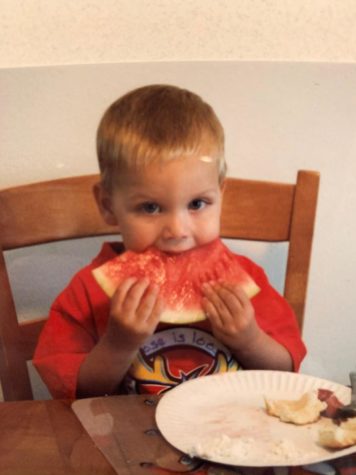 Liam Prentice, Staff Writer
Liam is a senior, this is his first year in newspaper and is a features writer. He is a member of Kay club and plays baseball during the spring. He enjoys golfing in his free time.