Tragedy and Harassment in the LGBTQ+ Community
A tragic shooting occurs in popular Colorado Springs LGBTQ+ club, Other drag events are being targeted as "child grooming".
Introduction:
Recently, there has been hateful rhetoric directed toward the LGBTQ+ community and it is dangerously manifesting itself into violence across America. All of these occurrences happened within weeks of each other, concerning LGBTQ+ clubs and drag performers across the country. Here is a comprehensive timeline of the recent events:
November 19th, 2022: Tragic Shooting Occurs in Club Q
On Saturday, November 19th, the popular Colorado Springs LGBTQ+ nightclub "Club Q" was attacked by a man wielding an assault rifle. The first call that local police received came in at 11:56 pm, with officers being dispatched only one minute later. Police arrived only six minutes later at 12:02 am, but unfortunately, those six minutes were too long. The gunman, a 22-year-old, opened fire, tragically killing five patrons and injuring seventeen others before he was subdued by 45-year-old hero Richard M. Fierro. Fierro, a retired Army major, said that his military instincts kicked in and once he saw the attacker, he charged him, tackling him to the ground. Once he was down, Fierro began to bludgeon him with his own gun, keeping him down until the police arrived at the scene. On December 6th, it was announced that the 22-year-old has been charged with 305 different criminal charges, including first-degree murder, attempted first-degree murder, assault, and bias-motivated crimes causing bodily injury.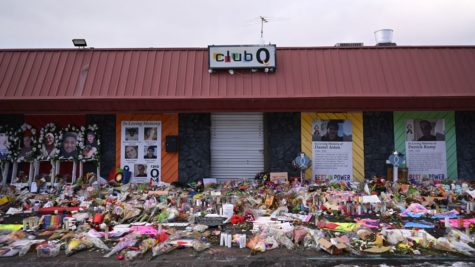 December 3rd & 4th: Protests, Threats, and Harassment 
Since the unfolding of the terrible tragedy at Club Q, more attacks that are directly targeting, or believed to be targeting, the community have occurred. Over the weekend of Dec. 3-Dec. 4th alone, there were incidents in which far-right groups such as the Proud Boys, as well as religious groups, white nationalists, and neo-nazis, protested drag events occurring in four different states. In Lakeland, Florida, members of the Floridian white supremacist group, NatSoc, gathered around a venue where a family-oriented drag event was taking place. Dressed in all black and red uniforms, they waved swastika-adorned and "White Lives Matter" flags. Also in Florida, the Proud Boys, clad in full uniform, joined with other far-right groups "Moms for Liberty" and "Gays Against Groomers" for an "anti-grooming" rally in Fort Lauderdale. In New York, three separate events against drag events occurred. In Manhattan, a drag queen story hour taking place at the Lincoln Center was interrupted by the holocaust-denying neo-nazi group "Goyim Defense League". In Staten Island, another drag story event was protested by approximately 20 far-right activists, and a separate, smaller group, showed up to, once again, another drag story event at the Jewish Children's Museum in Long Island. Illinois also had incidents in which the Proud Boys menaced and threatened drag event organizers in Chicago online. The group threatened to doxx the show's performers but never showed, instead being replaced by over 50 antifascist activists. In Texas, the fourth and final state to experience these disturbances, plans for the Taylor, Texas annual Christmas Parade were ruined due to complaints from religious groups regarding the involvement of local drag queens. The group wanted the parade to reflect "traditional" values, opting to host their own parade while the city held its own original parade. 
December 3rd, 2022: Power Substations Allegedly Shot Out To Prevent Drag Show
On Saturday night, in Southern Pines, North Carolina, protesters gathered outside of a local theatre hosting the "Downtown Divas" drag show. Approximately 50 protesters were present. The protesters reportedly prayed and held signs with anti-drag sayings. That same night, two power substations in Moore County, North Carolina were shot multiple times, causing a county-wide power outage. The brunt of the outage is in Southern Pines, a small town. This action is being declared by the Mayor of Southern Pines as a "selfish and cruel act" that has affected upwards of 40,000 people. Schools and businesses have temporarily shut down for the time being, and any homes that don't have access to a backup generator have been experiencing incredibly cold temperatures at night. According to the Moore County Sherriff Department, the attacks seem both intentional and targeted. 
A theory currently circulating on social media claims that the attacks were targeted toward the LGBTQ+ community in an attempt to prevent the "Downtown Divas" show. Leading up to the event, resident drag queen Naomi Dix told The Washington Post she received many threats before the event began, so when the power went out, she, the other performers, and organizers of the event became scared that they were under attack from the protesters outside. As of December 6th, investigators have made no comment regarding a possible motive for the attack other than it seemed "deliberate" and "targeted". 
Why Is This Important?
The LGTBQ+ community has been fighting for their basic rights since the beginning of society. Up until the late 1960s/ early 1970s, it was illegal in America to be a homosexual person. The right to simply exist didn't come without struggle, however, as that change did not come until days upon days of riots as a result of the police raid of the Stonewall Inn in New York City. Same-sex marriage wasn't legalized until forty-six years later in 2015. Even now, LGBTQ+ rights and lives are being threatened constantly. Anti-LGBTQ+ legislation has been proposed multiple times just this year alone. With the added dangers that have come along with the harmful comments made by popular public figures, it is making it even harder for LGBTQ+ people to live safe and happy lives. Now, more than ever, the community needs allies to help protect them. If in a situation that creates an unsafe environment for LGTBQ+ people, anyone who has the power to change that should do so.