The Kansas Football Jayhawks are Bowl Eligible!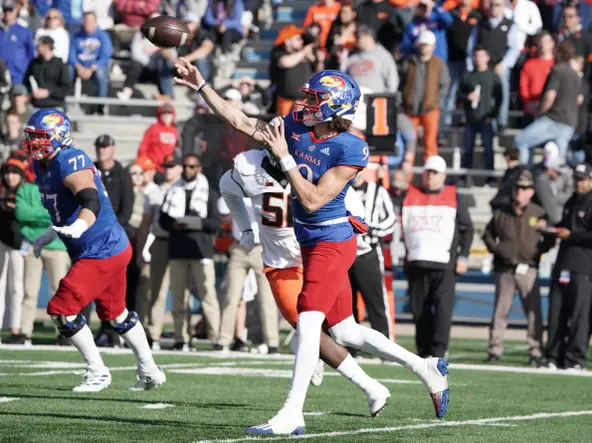 Opening:
I can't believe I'm saying this. For the first time since 2008, the Kansas Jayhawks have become bowl-eligible. And they did it against #18 Oklahoma State (OSU). But before we talk about current standings, let's talk about what led up to this moment in KU history. In 2009 we started 5-0 and then lost 7 straight. And then we never came back from that, until now. Here in Lawrence, Kansas is seeing talent not seen since Reesing and Meier. With a stout defensive performance, outstanding rushing game, and good passing attack it was looking like they'd make it here by week 5.
Game Recap:
Pretty easy recap since KU against OSU was able to beat them easily and make a statement that they are no longer a pushover school you can schedule on HOCO. They are a real team with real ambitions. Jason Bean made the play of the game with a 73-yard run potentially being the highlight of his career. The defense made some highlights with 3 interceptions and 1 fumble. Very pleased with this game and I can't wait to see some more Leipold football!
Bowl Standings (as of this date 11/7)
The Jayhawks are now bowl-eligible and there's a mixture of bowl outcomes that could happen. Some of which I don't even know but the result most people have been talking about is a match of the Border War. The Kansas Jayhawks vs the Missouri Tigers. I for one would love to see this rivalry game for the sake of it being interesting and all of the stuff that would happen.
Conclusion:
As a whole, I am very happy with how things turned out on Saturday, actually more than happy. Going from getting destroyed by OSU 55-3 a season prior to now beating them handily in a game is mind-blowing. A 2-10 season turning into 6-3 and looking way more competitive than they ever have been. I'm very excited for this team but the season isn't over yet. As we play Texas Tech in Lubbock next week. Let's keep on going Jayhawks! Rock Chalk!